NameSwitch, the journey so far...
Founder Cécile Mazuet shares the inspiration behind the unique service
After an incredible 3 years in business, a great deal of hard work, research, trial and error, our team NameSwitch has become regarded as the name-changing experts of the UK. We are proud to have successfully helped over 2500 happy, paying customers start new chapters in their lives, with new names. Having reached this significant milestone, I wanted to share a little more about NameSwitch, how it came to be and where we see ourselves in the future.
How it all began
As a newly divorced, single mum of two young boys, working full-time, the burden of changing my married name back to my maiden name was a daunting chore full of frustration. It took over a year for me to finally get my name changed everywhere – a year of cringing each time something else arrived through the post addressed to a name I no longer associated with. I kept thinking that there must be an easier, more efficient way to do this. So, in 2014, I started my research. I found a well-established market for name-changing services in the United States, yet nothing similar here in the UK. With the extensive encouragement, support and guidance of friends and family (to whom I will remain eternally grateful), and a wide-open space in the UK market for this type of business, I took the leap and founded NameSwitch in 2015. While continuing to work my full-time job in corporate-ville, I worked around the clock and pumped every ounce of energy and savings to turn this idea into a viable service offering. After a successful proof of concept, our first customer landed on the 12th of May 2017. From that point on, NameSwitch began to take off…and I haven't looked back.
Gaining Traction
NameSwitch has definitely faced its fair share of challenges. Being the first of its kind in a niche market has been both a privilege and a burden. This type of service was new and different and didn't quite fit into a specific category, much like me. The phrase, "build it and they will come" couldn't be further from the truth. At least not until people realise why we're here, what we do, where to find us and how the service will benefit them. Getting our "why," "what," "where" and "how" out there and educating the market would be absolutely essential. And that is exactly what we did. Fortunately, from day-one the response from the industry has been overwhelmingly receptive and supportive – their willingness to cover and share this innovative concept to their extensive customer base was key.
On the 17th May 2019, almost 3 years to the day of our first sale, we proudly switched our 2000th customer, and over 500 since then.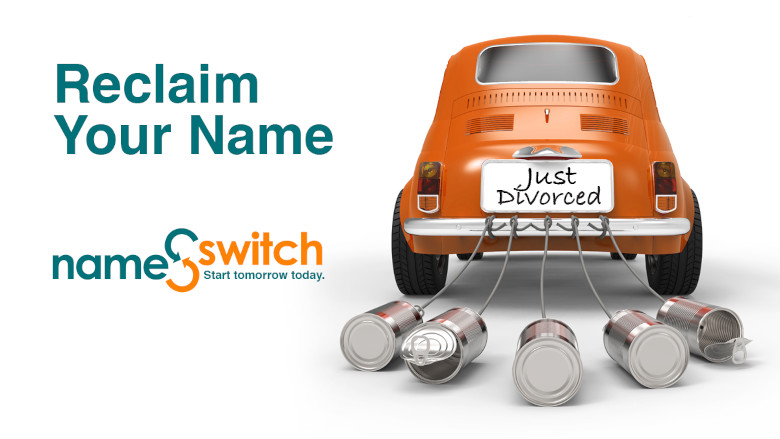 The wedding industry, for both men and women alike, is the primary market for NameSwitch. However, we also help people to change their names after divorce, gender-reassignment or deed poll. Integrity and trust are at NameSwitch's core – we do not and will never share or sell any of our customers data - adhering to our privacy, GDPR and security policies is a fundamental bedrock of our business. We are on hand to support each customer, provide extra guidance and answer any and all questions, no matter how tricky! We provide our clients with actual human interaction, so rare in today's online world.
Our reputation matters immensely to us and we actively re-invest revenue back into the business to continuously enrich the service we offer.
So how does NameSwitch work?
In 3 simple steps, customers can blitz through their name change experience by:
1) Choose who to notify - from hundreds of UK companies and government bodies
2) Enter personal details once - our unique automation populates the forms & letters
3) Download, sign & send - personalised letters, forms & instructions from a secure portal.
There are 2 Package levels: The ePackage the Print Package which are purchased through our Website. We also offer gift cards.
And how are we doing?
We've established partnerships with leading wedding industry providers such as Hitched, Confetti, and The Wedding Planner - a company that is VC backed by John Lewis. All of this has contributed to us reaching:
Over 2500, happily paying customers
YoY growth of 31%, QoQ growth 37%, MoM Growth of 47% 
169,940 page views and 36,685 unique visitors in the last 12 months
Over 50 customer testimonials
Building this business has been one of the most rewarding and challenging things that I've ever done – it's been an incredible journey. As a small business owner, I've had to wear many hats, some of which I find exciting and others somewhat terrifying. I have learned that SEO is a dark art-form, best performed by experts and that Google Ads is a necessary evil! I have realised that not only am I capable of executing a start-up business plan, managing partnerships and customer service, but I am also pretty good at tech support – something I (and for those who know me) certainly didn't see coming!  I have discovered how rewarding it is to teach my children about the basics in business and to be positive role model for them; showing them that hard work and determination actually does pay off and that building and running a business is something that they too can do. Growing the team with like-minded and incredibly talented individuals has been one of the most rewarding highlights over the last two years – we share common values and bounce off each other's strengths and skills to continuously enhance and improve the service we provide – Catharine and Sharon are simply a delight to have on board, as well as our extended technical team and freelancers who bring their specialisms to party.
What's next?
To date we have been focused on organic growth. Now is the time to step it up a gear and scale the business. We have a great service, with the right infrastructure, and the groundwork to informing the market has been laid. We have over 600 government bodies and companies mapped on our system and are adding to this list daily. We will continue to nurture our referral partnerships and grow our run rate business. Achieving sustainable, profitable growth will be drive by 3 key areas:
1) Stocking our Gift Cards with leading wedding registries
2) Extending our service offering to include Deed Poll
3) Expanding to the North American market
Last, but by no means least...
We are totally tickled to have reached the milestone of helping 2500 happy customers and look forward to continuing to help people blitz through the name changing process with ease.
To everyone who has supported us, used our service, follow us, recommended us to others or taken the time to write a review – we say merci beaucoup!
Special thanks and gratitude to the following superstars for their role in making NameSwitch real: Gillian Kent, Sam Sethi, Laura Wall, Kaspars Upmanis, Stefan Eller, Tony Mazuet, Mum, Jane Dixon, Catharine Collins, Sharon Eller – you all rock!
Cécile xx